BurbankBus Financial Strains: High Costs Prompt a Call for Reevaluation of Transit Solutions
As taxpayer concerns mount over the seemingly unsustainable expenditures of the BurbankBus system, the call for more cost-effective and efficient transit solutions in the city becomes louder. Detailed analyses, emerging technologies, and resident feedback have converged, shining a spotlight on the city's transit dilemma. Despite the massive cost of the BurbankBus program, it is not even mentioned in the City's Proposed Budget at a Glance. Too embarrassing to make it a line item?
An independent analysis from May 2022 unveiled a startling picture of BurbankBus's finances. With a then-annual operating budget of $8.9 million providing 142,000 rides, the staggering cost is $62.68 per ride. This is significantly higher than most private ride-sharing services. In contrast, Metro, which operates over a larger region, offers rides at $42 each, serving 35,600 riders monthly.
An UberX (standard) ride across the entire city of Burbank costs only $12.91 and even a black SUV is $50.60, still less than BurbankBus' cost to taxpayers.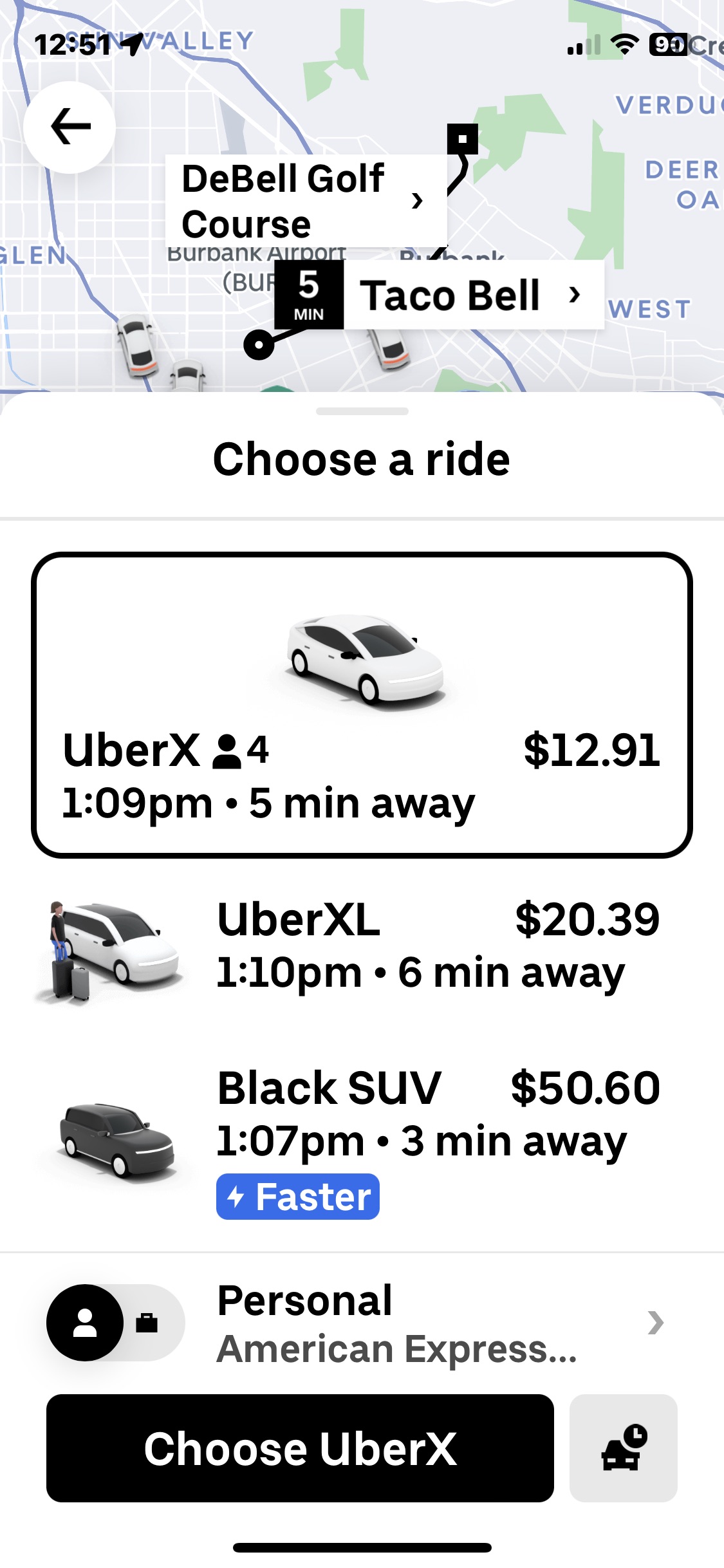 The city, recognizing the urgency, is presented with several alternative proposals (source: March 15, 2022 Council meeting), each with its financial implications:
Transition to Battery Electric Buses (BEBs): A move towards sustainability, but with a high upfront cost, adding a whopping $43 million to the bill.
Co-locate with Glendale: This partnership aims to combine resources but comes with its own price tag, adding an extra $12 million annually.
Engage a Third-party Operator: While this option offloads the direct operational hassles, it doesn't come cheap, adding another $12 million to the budget.
Discontinuation of BurbankBus: A drastic step, but one that could bring relief to the taxpayers, saving them up to $17 million. Most BurbankBuses operate empty anyway.
Amid these potential changes, there's a burgeoning conversation around the role of automated vehicles. The National Highway Traffic Safety Administration (NHTSA) has outlined several benefits of such vehicles, from safety to environmental advantages. The question remains: why hasn't Burbank capitalized on this emerging technology, especially when some driverless taxi operators suggest they could operate at costs even lower than current ride-sharing models?
Residents are chiming in with their opinions too. Margo, a local, shared her hesitation in using BurbankBus due to occasional unsavory experiences with other passengers. Such feedback underscores the pressing need for a thorough transportation strategy overhaul. "I am afraid to ride, there are always transients riding the public bus and they often smell so I just take an Uber or ask a friend to take me places," Margo said.
"This is an example of a well-intended program that does not deliver on its promises and should be eliminated immediately. It did not work out as planned and should be ended as a cost savings to the taxpayers. There's no such thing as 'free' from the state or the federal government. It's all taxpayer dollars that should be under scrutiny," said Joel Schlossman, a Burbank resident since 1980. Schlossman references the City's frequent claim of use of county, state, and federal grants that, while they do not hit the City's budget directly, do dramatically hit Burbankers' wallets in the form of higher taxes and smaller spending power.
In essence, Burbank stands at a transportation crossroads. Balancing fiscal responsibility with efficient, modern transit solutions will be the key to navigating the challenges ahead. The city's choices today will set the trajectory for its future mobility landscape.