In a packed City Council chamber, Burbank Mayor Konstantine Anthony faced a moment of reckoning over his controversial appearance at a drag queen-themed bingo fundraiser. Anthony allowed himself to be publicly spanked. Despite public outcry, a flood of calls and emails to the City, and a local survey indicating 89% of respondents favored his removal, the Council chose to admonish rather than depose the Mayor.
Burbank Has No Elected Mayors
The Council chooses one person from the City Council to serve as mayor, Burbank has no elections for mayors. See Article 4, Section 400 of the Burbank City's Charter.
The Incident
Over the past weekend, a video surfaced showing Mayor Anthony getting spanked by a drag queen at a fundraiser event hosted by the Santa Clarita Valley Democrats. The video quickly went viral globally, leading to public debates on the appropriateness of his actions. While some criticized the Mayor for potentially crossing ethical boundaries, others questioned the presence of children at the event. Mayor Anthony clarified to FOX News that "all attendees were over 21 years of age." A photograph of a teen at the fundraiser suggests he was not telling the truth.
Council Meeting Fallout
Tuesday evening's City Council meeting was dominated by discussions surrounding Mayor Anthony's actions. While council members expressed varying degrees of concern, they stopped short of removing him from his appointed position.
Mayor Anthony acknowledged his lapse in judgment, stating, "I come from a very silly performance background. To me, what is goofy and normal to other folks seems inappropriate. That's not their fault. That's mine. I need to learn that line." Critics state that both Anthony and his wife are routinely on social media "stirring up trouble" and making "not very nice" comments to residents and others.
On the social media platform Reddit, a resident and business owner complained about Burbank's high local sales taxes and mentioned shopping in lower-cost North Hollywood. Anthony's reply was, "I am actually a little disgusted that you're complaining about our city finances while actively giving your money to another municipality. Good luck with your life." Critics say this is not appropriate behavior for a mayor, let alone a city council member.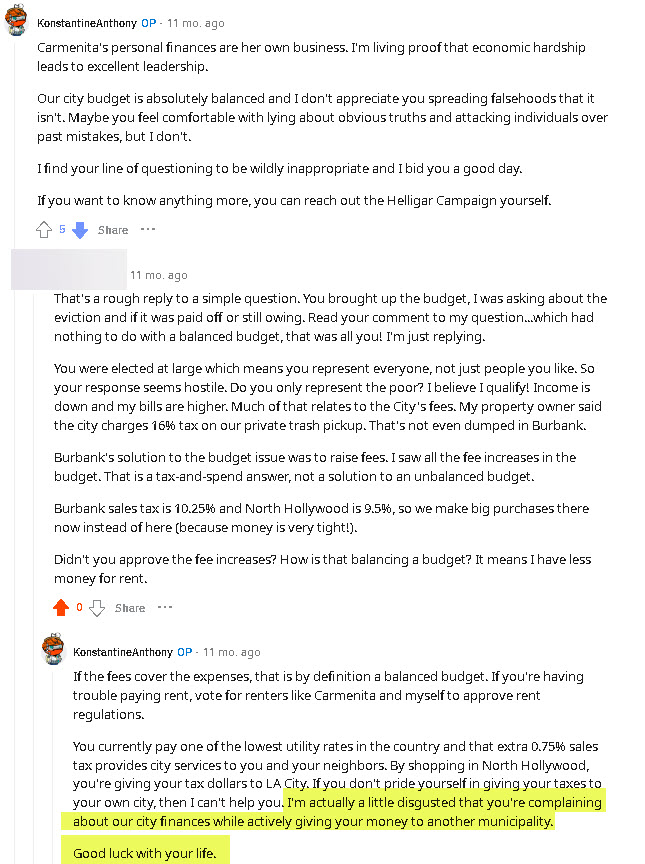 Public Opinion
A local community group conducted a survey of 10,000 Burbank residents, with 89% of respondents favoring Mayor Anthony's removal. Despite these statistics, Anthony remains at his post.
Moving Forward
While Mayor Anthony retains his position, the controversy highlights the delicate balance public figures must maintain, especially in the era of social media where moments can quickly become viral sensations. The Mayor pledged to take a "step back" to better align his actions with the expectations of his role and constituents.
The City Council's decision to admonish rather than remove Mayor Anthony leaves him with a challenging road ahead, one that will require more than just words to regain public trust.
The majority of Burbankers polled say that "Mayor" Anthony should step off, not step back.