In May of 2018, a Burbank Water and Power vehicle of the type shown in the below image was observed digging a nice big hole in a residential yard to plant a tree. This type of truck is commonly referred to as a digger derrick.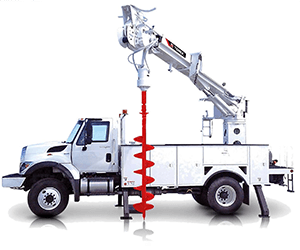 The "job" was clearly not the Peoples' business and most certainly not a legitimate use of taxpayer funds.
This event raises substantial concerns and many questions…how much of a handle does our City have on the control of City vehicles? How often are vehicles being used for personal use and not City business?
It should be noted that the City of Burbank's City Manager authorizes select workers permissive full-time overnight use of City vehicles and a significant number of Burbank workers do not live in Burbank. Shouldn't Burbank workers who are allowed to take vehicles home overnight actually live in Burbank? But so many do not. Ask!
Here is the current Burbank City policy:
Burbankers, city workers and concerned persons should be free to report waste, fraud, abuse of authority, violation of law, or threat to public health. We all have a duty to our fellow Burbanker to report wrongdoers. Whistleblowers should call (818) 238-5200 or email Judie Wilke to report those who are doing the wrong thing.